In a previous post, we gave you a bunch of reasons why we here at Plum use and recommend Brivis gas ducted heating systems, including their new and improved touch controller.
Because this is a brilliant piece of heating equipment that will really make your life easier, we thought we'd look at it in more detail. Hopefully this will come in handy if you're thinking of purchasing a Brivis gas ducted heating system.
Firstly, in case you haven't seen one before, the Brivis touch controller is a wall-mounted panel with a LED screen that is the command centre for your gas ducted heating (and your evaporative cooling during the summer months).
Designed to be very easy to use, even for those who are a little less tech savvy than others, the Brivis touch controller has a high resolution screen that is easy to read in low light or at night. It can be used manually or automatically. On a manual setting, you choose the temperature you'd like your house to be, then switch it off when you're warm enough.
Of course, with automatic climate control, your ducted heating system will cycle on and off as needed, keeping your entire home or zoned areas at a consistent, regular temperature.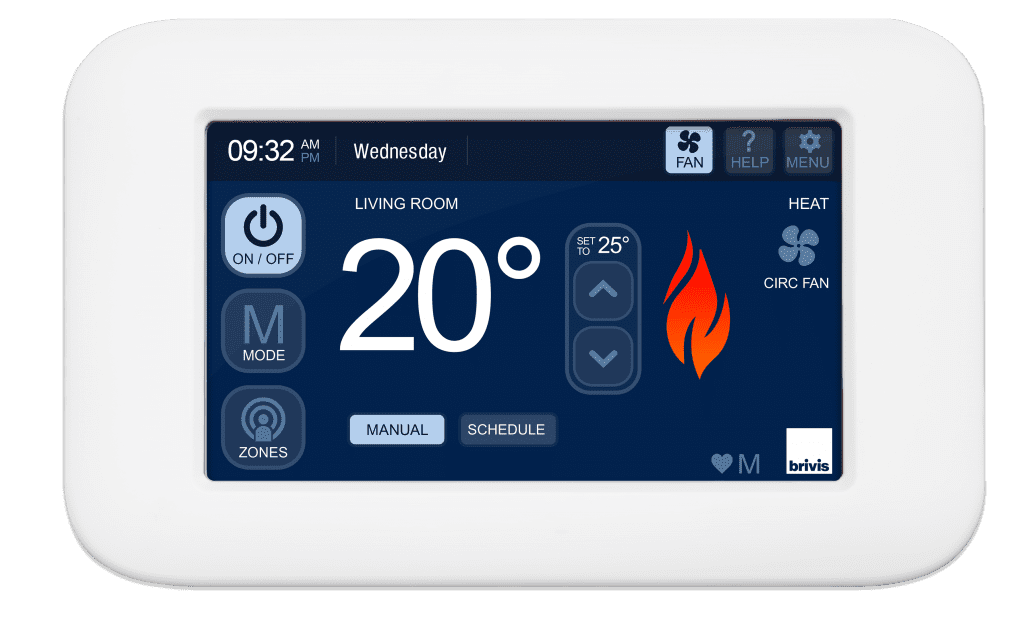 There is also a 7 day programmability timer, meaning you can input your weekend and weekday heating needs to suit the comings and goings of your family. Going to be out late on Tuesday night? No problem, set the timer to come on just before you get in, rather that earlier in the evening.
We've also talked about how zoning your home can save money over the life your of your ducted heating system. Well, the Brivis touch controller allows you to customise your zoning, giving up to four zones a name for easy identification.
The zoning system will save you money by only heating (or cooling) those parts of your home that you're using at certain times of the day and night. For example, heating your bedrooms later in the evening, and your kitchen and dining area in the morning when you're making breakfast.
There is also an inbuilt security system with the Brivis touch controller. Simply choose a PIN number and never worry about family members, housemates or renters changing your heating program.
Knowing when to maintain your gas ducted heating system is simple with the Brivis touch controller. As well as providing alerts about regular servicing or maintenance, the controller is consistently monitoring how your system is going, giving you real time information, which ensures top quality performance!
Of course, choosing the right gas ducted heating system for your home can be tricky but our team here at Plum are the experts, especially when it comes to Brivis products. Our showroom is open 6 days a week and our knowledgeable staff are on hand to ensure we are there to help you make the right choice.
Give our friendly team at a call on 03-8360 9622 if you'd like to discuss the Brivis range in more detail. We look forward to hearing from you!