Split System Air Conditioning for your Melbourne Home
Peak summer. Another crippling Aussie heatwave season. Your Insta feed is being flooded with those seasonal photos of eggs being fried under the heat of the scorching sun, while your dog keeps trying to climb into the fridge to stay cool.
Yup, it's hecking hot, mate!
You find yourself with two choices: do you continue to try and master your comical, near-naked "dance of the oscillating fan" in a losing battle to stay cool at home; or do you bite the bullet and invest in an air conditioner?
The refreshing news is that these days, air conditioning doesn't have to cost a sunburnt arm and leg. For just one or two thousand dollars, you can soon be basking in delightfully chill air as it floods quietly into your home, day and night.
Plum Trade Services' range of Split System Air Conditioning units are perfect for customers on a tight budget, or for those who only need to cool a small home or single room – dishing up soul-saving relief at the press of a button.
Our range of Split System Air Conditioners are perfect for cooling single areas with a constant feed of refrigerated air. And better still, they come in a range of sizes to ensure the service the smallest bedroom through to big living rooms are efficiently covered. You can even install multiple units throughout your home – for example, in the living area and bedroom/s – ensuring the dog never tries to climb into the fridge again!
But Split System Air Conditioners are not the perfect solution for everyone. For example, the outside compressors can be large and sometimes noisy, a consideration if you have neighbours living in close proximity or a very tight apartment balcony.
Here at Plum Trade Services, we pride ourselves on being transparent about everything we do and offer so that you, our valued customer, can make reliable, informed decisions about your family's home Heating and Cooling requirements – first time, every time!
So without further ado, here's everything you need to know when deciding if a Split System Air Conditioner is the perfect solution for you.
Top 5 Advantages:
Dual Heating and Cooling refrigerated system offers year-round use
Great for a single room
Comes in different designs to suit your décor
Cheap to buy, install and run
Wi-Fi compatible
Top 5 Disadvantages:
Not an ideal whole-home system
Slow at heating your home
Servicing multiple units will add up in maintenance costs.
While quiet inside, the outside compressor can be noisy
Space needed for the outside compressor, within 30m of the indoor unit.
Requirements for a Split System Air Conditioner
Space inside on an exterior-facing wall, facing the area you want heated or cooled
Space for the outdoor condenser unit, with appropriate clearance (see installation section below)
An outdoors GPO (power point)
What is a Split System Air Conditioner?
When getting your head around what a Split System Air Conditioner is, you'll find the answer sitting cheekily in the name. That's right, a Split System is an Air Conditioner that is "split" into two main parts.
One part lives inside – usually on an exterior-facing wall, or on the floor – and is the evaporative heat exchanger, which quietly goes about blowing cool, refrigerated air into your room. The effect is a little like what you get when you open the fridge door (before you wrestle the dog out the way!). And in the winter months, it delivers the type of warmth you've come to expect from a car heater, but on a broader scale.
Then you have the condensing heat exchanger unit that lives outside. This can be large and noisy, so you need space for it to be set up within 30m of where your indoor unit is positioned, so it can be connected to it with refrigerated piping. This is something to think about if you live in an apartment with a very small balcony, or have neighbours in very close proximity who may be affected by the noise.
Then, catering for a more whole-of-home solution, you have your Multi-Split Air Conditioners, which see one outdoors condenser feeding up to five indoor units strategically placed throughout your home, such as, say, in the main living area and bedrooms.
If you're thinking about a Multi-Split System, you have to take into account the extra piping required. For this reason, we recommend the condenser for multiple indoor units be as centrally located as possible.
Split-System Air is popular for good reason – and is the most commonly used Heating and Cooling system worldwide. These systems come into their own in the hot, humid climates experienced in Queensland and parts of New South Wales, where instant refrigerated air is required to cut through the humidity at the hit of a button. It's like having Ducted Reverse Cycle Air, but on a smaller, localised scale and without the need for ducting.
Standard Split System

Multi Split System

How does a Reverse Cycle Split System Air Conditioner work?
The operation is pretty simple, really. Your indoor and outdoor units will be connected to each other via refrigerated gas pipes and electrical wiring. When turned on, refrigerant gas will be pumped from the compressor into the pipes, which is then fed into the condenser and turned into liquid. The resulting liquid refrigerant is then pumped through the evaporator at high pressure, which turns it back into a gas and causes it to lose heat as it expands. It also absorbs heat from inside the room for extra cooling.
If it's a Reverse Cycle system, you can rest easy knowing your system offers heated or cool air, depending on the which mode you set it on.
In Cooling Mode, your Split System extracts heat from the indoor air and moves it outside, via the refrigerant gas in the pipes connecting the indoor and outdoor units. The outdoor unit releases this heat and pumps the cooled refrigerant back to the indoor unit, where the cycle continues. In Heating Mode, the process is simply reversed, extracting warmth from the outside air (yes, even in cold weather) and sending it inside as a toasty, warm kiss to you.
Single area Heating and Cooling solution
So you don't want to blow the bank on your Melbourne home Heating and Cooling solution, and either have a small house/apartment, or are more than happy to service specific areas of the home. Well, Reverse Cycle Split Systems are the perfect workhorse for the job.
They are perfect for studio apartments, or in situations where the parents still live in a big family home now free of the kids, where only one or two living areas need servicing.
Split systems are also your first choice for apartment living or in double-storey dwellings where the installation of ceiling ducting is not possible.
And in the case of Multi-Split systems, the internal units can be fitted in one part of your home at a time, as budget allows. You may start with a main living area and add additional units as time or your family needs progress.
Your split system is also operated by remote control, putting complete control at your fingertips, no matter where it is installed.
What size Air Conditioner do you need?
I know, I know …. They say big is better, right! But when it comes to getting your home Heating and Cooling system right, choosing the perfect size is important – and big is not necessarily better.
Our friendly and professional Plum Trade Services consultants will work with you to determine the perfect size for your needs and home. A little like Goldilocks and the Three Bears, an Air Conditioner that's too small won't provide the Cooling comfort you need, while one that is too large will waste energy and be more expensive to run.
Our Mitsubishi Electric range of Reverse Cycle Split System Air Conditioners vary from 2.5kW to 8kW, ensuring all your needs are met.
When calculating the size of the Split System you'll need, we'll need the measured area of the room you want to cool. You'll need about 0.15kW of power per square metre.
For those wanting to cool a large room of 60 square metres, you'll require an 8kW system. A smaller room of 20 square metres or less will be cooled efficiently by a 2.5kW unit.
Here's our rough guide to the Air Conditioner capacity (size) you'll need for a particular room size.
Room size Capacity
Up to 20m2 2–2.5kW
20–40m2 2.5–5kW
40–60m2 4–6kW
60–80m2 5–7kW
80+ m2 6–9kW
So, that's the ballpark guide, but you really need to do an accurate calculation before buying, or else you'll run into these issues:
Models too powerful for the room size may run frequent short cycles to achieve the target temperature. This can result in the room getting too cold or hot, inadequate dehumidification (i.e. not drying the air enough, making the room feel less comfortable), increased power consumption and running costs, and wear and tear on the system.
Underpowered models may have to run more often at maximum output, which could dry the air too much and also create excessive wear.
A 3.5kW Air Conditioner is usually enough to cool an average-sized bedroom, kitchen or study, or a small lounge of 25-35 square metres. If you need to cool larger rooms, an area with a high ceiling, or an open-plan living space, you'll need a larger system.
How much does a Split System Air Conditioner cost?
Never fear, we totally get it – your savings are hard-earned and precious! That's why when we give you a quote, you can rest easy knowing that it cover everything: your new Air Conditioner, installation, the electrician, the refrigerated pipe run, and delivery of something for your outdoor unit to sit on.
So buyer beware, because when you shop at retail stores, the advertised price usually only covers the purchase of the unit. It rarely covers the hidden expense of hiring a contractor to install the unit (who you'll need to deal with separately). You'd also need to hire electrician to install an outdoors power point for the exterior unit. Positioning of the outdoors unit will also determine the amount of refrigerated gas piping required, which can be expensive because it is made of copper. The other hidden cost is what the outdoor unit sits on (a concrete pad, or raised on brackets).
If you have a budget in mind, this is what you can expect to pay for a range of different types of air conditioners – remembering you need to know what capacity system you need.
For a wall-hung Split System Air Conditioning system, back-to-back installed, expect to pay:
$2,250 – $2,550 for a small 2.5-3.5kw inverter system
$2,550 – $2,950 for a mid-range 5kw inverter system
$2,950 – $3,350 for the slightly larger 6-7kw inverter system
$3,650 – $4,200 for the largest 8-9kw inverter system
Different models and range to choose from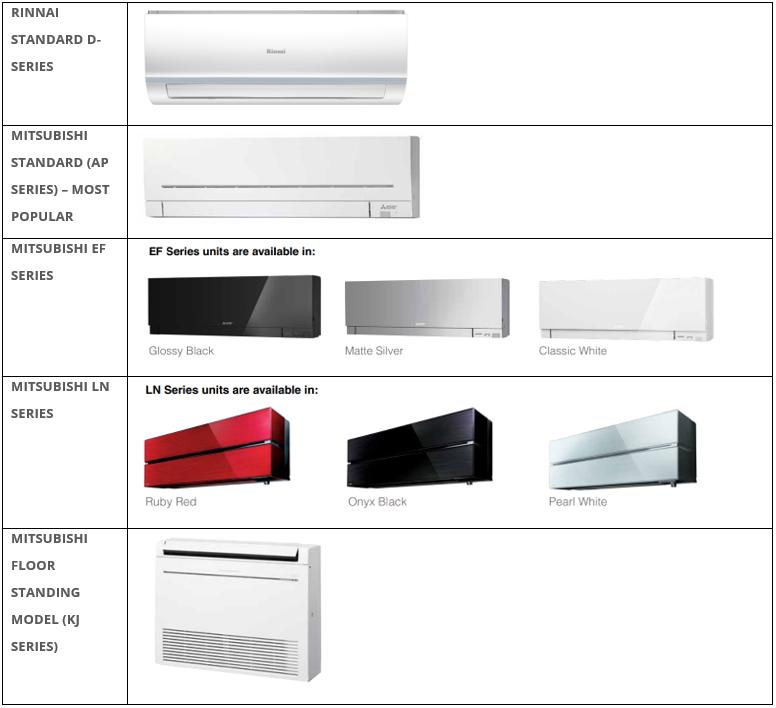 We have a size and price range for everyone. These are our most popular systems.
Rinnai D-Series:
Enjoy complete comfort at home with the Rinnai D Series Reverse Cycle Split System. Its leading inverter technology delivers powerful Heating and Cooling, allowing operation in temperature extremes ranging from -15°C to 52°C.
This innovative Reverse Cycle Air Conditioner boasts an intelligent Dehumidifying Mode to efficiently manage room humidity levels, and includes Wi-Fi control, timer functions and sleep mode.
Mitsubishi AP Series: MOST POPULAR
Our Mitsubishi Electric MSZ-AP series is a wall-mounted Split System. It delivers high performance while running a low GWP R32 refrigerant. With models ranging from 2.5kW-7.8kW, there is one to suit nearly every Heating and Cooling requirement in your home. As a bonus, it features a new streamlined design, blending in with any décor.
Mitsubishi EF Series:
Streamlined and sophisticated, these wall-mounted indoor units have elegant, clean lines – a great fit for today's contemporary homes. They come in white, matte silver and glossy black, while delivering consistent and efficient climate control.
Mitsubishi LN Series:
The LN range is a wall-mounted system that blends energy efficiency with a sleek, ultra-modern design. Coming in Ruby
Red, Onyx Black and Pearl White, there's a stylish and reliable unit for every home. Features include built-In Wi-Fi, Plasma Quad Plus Filtration System, 3D i-See Sensor and low GWP R32 refrigerant, the MSZ-LN offers luxury air conditioning solution.
Mitsubishi Floor standing – KJ Series:
This simple, flat design sits on the floor, raising the comfort level in your room or apartment to the next level.
Installation
Location, location! It's key when it comes to your installation. Let us explain.
Indoor Unit:
With the indoor unit, you need a good location to install it. You need space on the wall, and it needs to be an exterior wall, because internal walls aren't suitable for the job.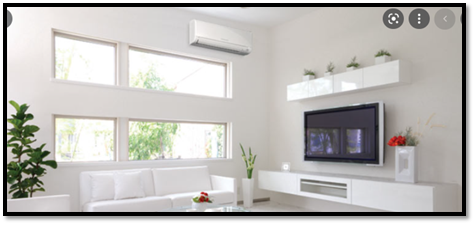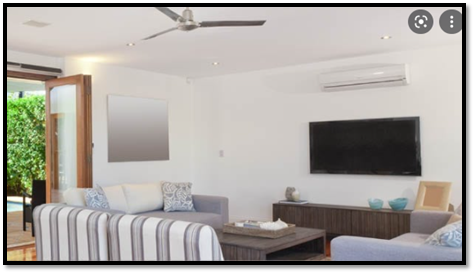 Outdoor Unit:
Your compressor unit will commonly live on the outside of the exterior wall on a concrete pad on the ground, in close proximity to where the indoor unit is located.
You can also have it raised and sitting on wall brackets if you need the ground area clear. You can also move it out of the way (for eg, around the corner) but you would still need the refrigerated pipes to run from the outdoor to the indoor. We would usually run these externally and cover it with capping.
You can also install the outdoor on your roof and run the pipes up to the roof, if space at ground level is a problem.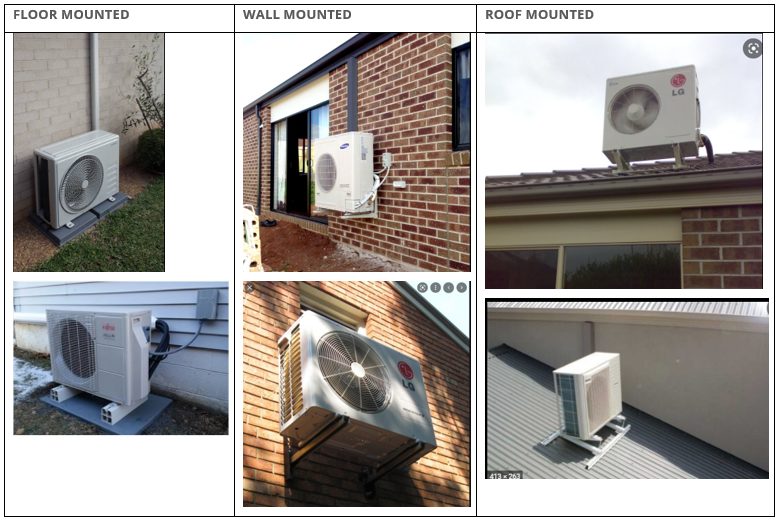 Inverter Technology
But wait, there's more! Our Mitsubishi units come with 'Inverter Technology', meaning they are a super-smart choice when it comes to keeping your energy bills down. As well as being more energy-efficient, inverters also help to maintain your desired temperature.
For example, if you set your Air Conditioner to 25C, the compressor will run flat out until it reaches that temperature, then with an inverter, it will run more slowly to maintain it. An Air Con without an inverter will keep turning on to reach 25 degrees and then turn off again once the set temperature is reached. This means the interior temperature fluctuates more and the air conditioner has to work harder.
Which Air Conditioners are the most efficient?
This one's easy. Split systems are generally the best choice for a single room or small space, while Ducted Air Conditioners are best for keeping a large home consistently cool.
If you're thinking about things from an environmental perspective, looking at units that use natural hydrocarbon refrigerants (as opposed to standard fluorocarbon) is a great place to start..
Whisper-Quiet Systems
It's important to be comfortably cool or warm while also being able to enjoy a conversation or hear the TV. And Split systems are generally quieter inside the home than Ducted Air Conditioning, with the quietest being those that feature inverters.
This is because an inverter air conditioner keeps the compressor running quietly, whereas non-inverter units audibly turn on and off throughout the day and night.
Mitsubishi produces someone the quietest air conditioners, with one model producing a mere 18 decibels of sound, which is why it's been termed 'whisper quiet.'
Wi-Fi
OK, it's time for a legitimate geek-out here, because today's smart technology is capable of making so much in our homes easier to run – including your Split System Air Conditioner.
By upgrading your Mitsubishi system with a WiFi adapter, you can connect it to your home network and become the master or mistress of your home climate choices via an app on your smartphone. But you do need a home network for it to work.
Imagine, if you will, being able to switch on your Split System Air from the comfort of your bed, or as you leave work for the day. It sounds like a positively regal life.
Most of our customers jump at the chance to spoil themselves with Wi-Fi-enabled systems for this reason – and bragging rights, of course!
So, should you buy a Split System Air Conditioner… or not?
As we've explained earlier, Plum Trade Services' range of Split System Air Conditioning units are perfect for customers on a tight budget – reliably dishing up deliciously cool refrigerated air while being cheap to buy, install and run.
Our range of Split System Air Conditioners are perfect for cooling single areas with a constant feed of refrigerated air. And better still, they come in a range of sizes to ensure the service the smallest bedroom through to big living rooms are efficiently covered. You can even install multiple units throughout your home – for example, in the living area and bedroom/s.
However, Reverse Cycle Split System Air Conditioners are not the best choice for those wanting to Cool or Heat many rooms in a large home, or over two storeys. For this, you should probably explore whether Ducted Reverse Cycle Air Conditioning is right for you.
No matter what you decide, you can rejoice in never having to do the half-naked "dance of the oscillating fan'' again.
Choose a company with good long-term support
Don't forget when you're shopping around to not only check what the price includes (your Plum quote covers the unit and full installation costs), but importantly, the reputation of the company you are dealing with.
Please do take the time to check how long the brand and company have been in operation – as well as reading their Google reviews! A company's response to their online customers provides a pretty clear indication of the level of support you'll receive if you need it in the future. And a shortcut here could cost you dearly in the future.
Also, keep an eye out for 5-star reviews on Google. If a company or brand has a lot, you are clearly onto a winner.
We have no time for competitors who just grab the money and run. As an award-winning family company that puts our clients' needs at the centre of everything we do, we pride ourselves on treating you with honesty and respect to ensure a positive, stress-free experience throughout the life of your Air Conditioner.
For your best home heating and cooling in Melbourne, please come and join the Plum Trade Services family today. We are Plum by name and Plum by nature: your guarantee that we will always do a plum job!