Evaporative Cooling for your Melbourne Home
There's nothing more delightful than feeling a gentle summer breeze kiss the perspiration on our skin, bringing instant relief from the heat. That sensation is known as the evaporative cooling process – and it's behind one of the most popular air conditioning systems in the world today.
While the science has been utilised by man for eons, with Bronze Age frescoes showing slaves fanning jars of water to keep rooms cool, it has really come into its own today.
The benefits of having water droplets make contact with air have been harnessed and married with the latest technology to produce a near-perfect mechanical cooling system for arid and semi-arid climates.
In a dry Australian climate, such as Melbourne and Perth, evaporative air conditioning units are the most popular air conditioner type – thanks to their price and efficiency. They are not suitable for humid, wet climates – such as tropical north Queensland – where a refrigerated unit is usually a better choice.
Drive through any suburb in Melbourne and you'll notice many houses have a big box on the roof. That box is an evaporative unit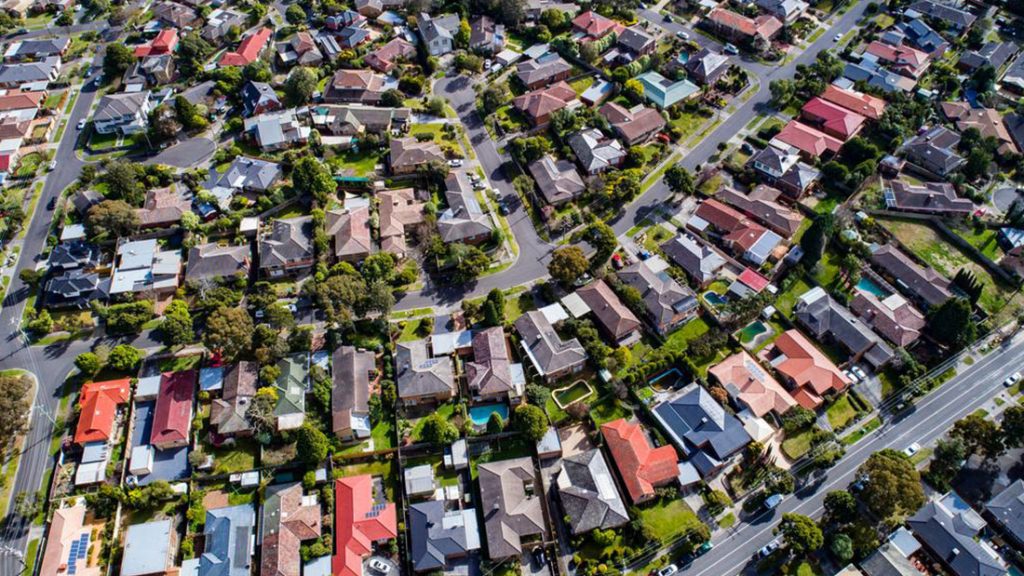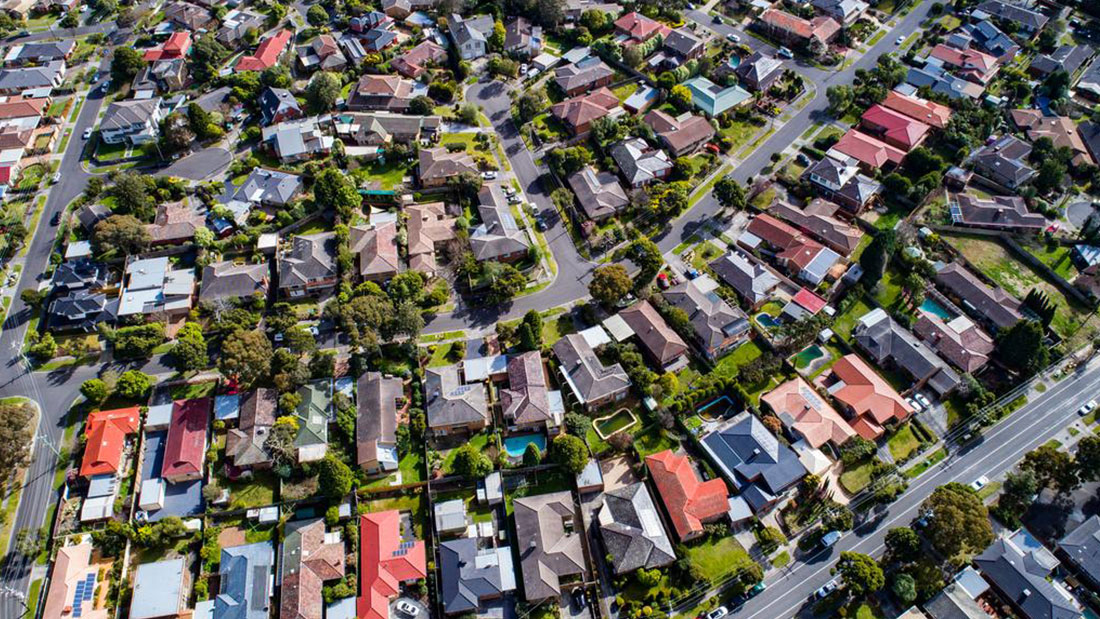 Evaporative units draw an endless supply of cool, fresh, filtered outside air into the home. They also ensure that the air is packed full of moisture, which combats dehydration.
Evaporative Coolers are also environmentally friendly, because they are free from harmful refrigerants containing HCFCs or HFCs. Compared to Reverse Cycle Air Conditioning, they produce less CO2 emissions due to their energy efficency.
Here at Plum Heating and Cooling, we're dedicated to providing our valued customers all the facts to ensure they are armed with all the information necessary to make an informed choice on the most effective cooling and heating solutions for their home.
Evaporative Cooling Systems
In this article, we plan to show you exactly how Evaporative Air Conditioners work so you can decide if they are the right fit for you and your family needs. But first, it's best if we explain the principles of the Evaporative Cooling process.
The Evaporative Cooling process is based on a simple principle: that when unsaturated air comes in contact with liquid water, that liquid evaporates. In doing so, the moisture content of the air increases, while the approximate air temperature falls. The resulting cold but moist evaporated water (air) is then circulated through your home to provide cooling. It's simple really: dry, hot air is blown over a constantly wet surface to produce cool air. The cooler normally consists of a fan and a pump.
An evaporative unit can sufficiently cool your entire home, with very low actual running costs. Because power requirements are low, and the purchase price of evaporative air conditioner models are low too, they are friendly on the hip pocket in the immediate and long term.
Plum Heating & Cooling advises they are suitable for those living in hot, dry climates, because they struggle to combat indoor humidity in tropical zones.
Evaporative Coolers
On a hot day, you want every corner of your home to be cool – and Evaporative Coolers do just that!
These central cooling systems take air from outside, filter it, cool it, and then distribute it throughout your home via a series of ducts and vents.
Here's a simple diagram of how an evaporative air conditioner works: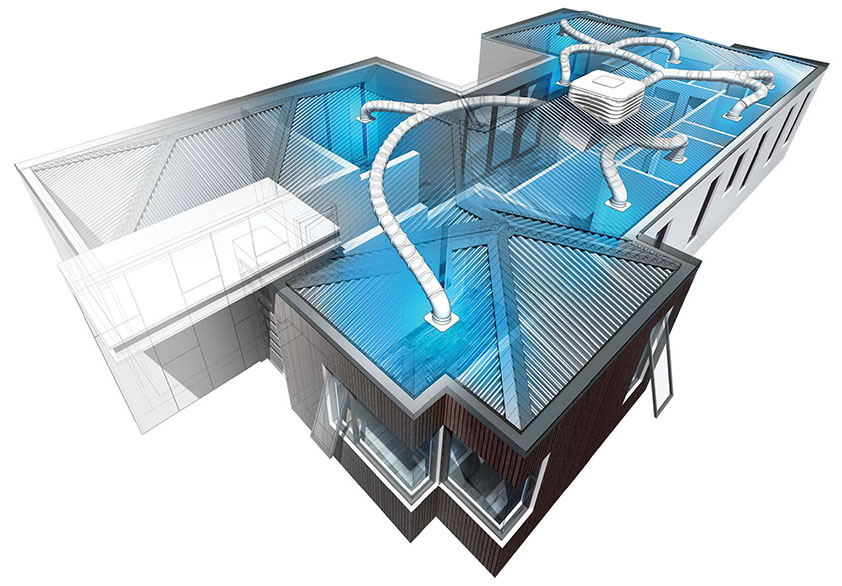 Evaporative Coolers can only be installed on the roof, with duct placed strategically throughout the ceiling. Unlike Ducted Reverse Cycle cooling, which recycles the same air, Evaporative Cooling brings in constant fresh air, chilling it to an average 8-12 degrees lower than the outside temperature.
How Evaporative Coolers work
Evaporative coolers are relatively simple systems, consisting of a powerful fan, absorbent filter pads, a water pump, and the all-important water that is converted to cool air. You can either operate the fan only, which draws air directly from outside for ventilation; or set your air conditioner thermostat to operate on cooling, which delivers deliciously clean, soothing air throughout your home.
As the fan turns on, it draws the warm air through these now cold filter pads, evaporating the cold water and dropping the air temperature, which is then propelled through a series of ducts and distributed into the home through vents positioned in the ceiling.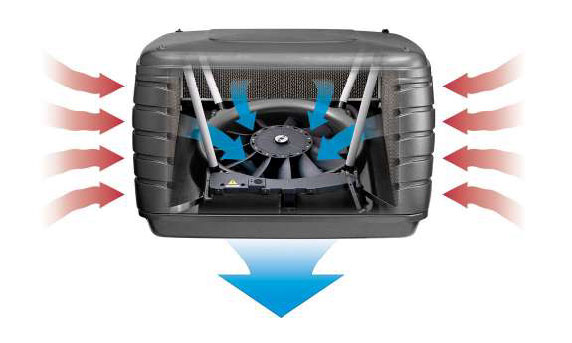 Because fresh air is constantly flowing into your home, it needs a place for the old air to escape. That's why you need to have a number of doors or windows open. This creates the perfect breeze through your home to cool your family in hot summer months.
It's a simple operation – mechanically.
Top Advantages:
Cheapest whole-house cooling solution
Very efficient to cool your entire house
Environmentally friendly – Evaporative Cooling doesn't use harmful refrigerants containing HCFCs (hydrochlorofluorocarbon) or HFCs (Hydrofluorocarbon) that Air Conditioners do
No bulky outdoor unit
Options to operate on cooling or fan only
Delivers fresh, filtered, moist air, making it great for airborne-allergy sufferers in a natural process
Comfortable, effective cooling overnight
Perfect for alfresco living when doors and windows are open
Energy Efficiency
Great companion to Gas Ducted Heating
Top Disadvantages:
Ineffective during days with ambient humidity levels (Melbourne has about five humid days a year)
Evaporative Cooling is not temperature controlled; it operates by adjusting the Fan Speed to minimise heat load
Can not zone the system like ducted refrigerated cooling
Can not utilise the same vents as a heating system

Requirements for Ducted Evaporative Cooling
Space in the ceiling for large duct
Space on the roof for the cooling unit.


Do Evaporative Coolers really work
The most frequent question we are asked at Plum Heating & Cooling is 'Does evaporative really work? Does it give sufficient cooling? ' Let's explain.
The effectiveness of an Evaporative Cooler depends largely on the humidity of the air. On hot dry days, it works a treat. But if it's 38C-40C and humid, the system starts struggling.
Luckily in Melbourne, there are only a few of these muggy days (on average 4-5 days a year). This is the reason these systems are not made for states like NSW and Queensland.
In very dry climates, such as much of inland Australia, Evaporative Cooler air conditioners are perfect and have the extra benefit of adding moisture to the air.
If you splash additional water onto your face and feel the cooling effect of the breeze, that's the type of cooling you will receive from the Evaporative air Coolers.
Pricing and Costs
As mentioned above, Evaporative cooling is the cheapest whole-house cooling system on the market, in the price range of $3900 to $5500. The price varies depending on the size of your home, the number of outlets your home requires, and the complexity of the job. For example, if you own a two-storey home, your unit will require a much longer duct, and a lot more of it.
When it comes to running costs, Evaporative coolers are known for their energy efficiency, so you're looking at an average $1 to $2 a day.
Compare that to a Ducted Refrigerated Cooling System, which averages $5 to $10 a day. However, in saying that, if you have solar panels, a Ducted Refrigerated system will be worth looking at.
Check out our Evaporative Cooling Vs Refrigerated Air Conditioning article.
Split System Air Conditioner as supplementary cooling
Because the Evaporative Cooler struggles on humid days, it's usually best to pair it with a refrigerated cooler such as a Split System Air Conditioner (or two) in the key areas of your home.
For example: Evaporative Cooling through your whole house and a few split system single units in different rooms, or a larger unit in your living area, to be used as a back-up cooling system while your Evaporative air Cooler takes a break on those rare humid days. Just keep in mind, the more indoor units you have, the more space for the outdoor units you'd need.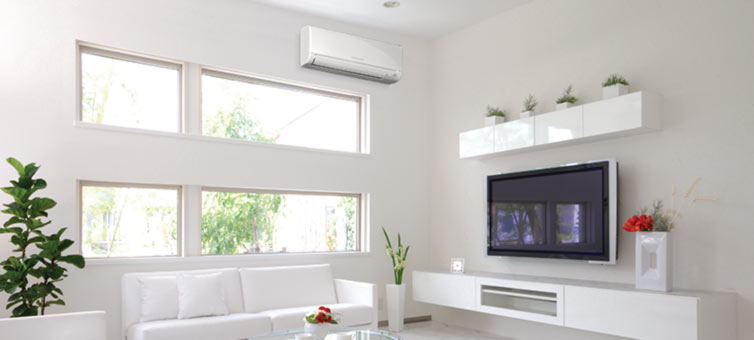 On average, Melbourne has about five humid, extreme heat days of 40C days per year. With a set-up like this, you could use the Evaporative Cooler most of the time and switch to the Air Conditioner on the humid days, when the Evaporative Cooler struggles to cool. Using both of the most efficient systems will give you a complete set-up that will cater for all 365 days.
Summary
If you're after a low-cost, low-power consumption, and effective residential cooler that is healthy for the family, then an Evaporative Air Conditioner may be perfect for you. Evaporative Cooling is widely popular in Melbourne, leaving many of our customers satisfied.
Its subtle 'breeze' throughout the hotter months provides the perfect environment for kicking back with a well-deserved beer or glass of wine after a long, busy week.
Evaporative air conditioning is perfect when entertaining guests during an indoor-outdoors gathering. Plus, that cool, clean breeze will flow through your home beautifully.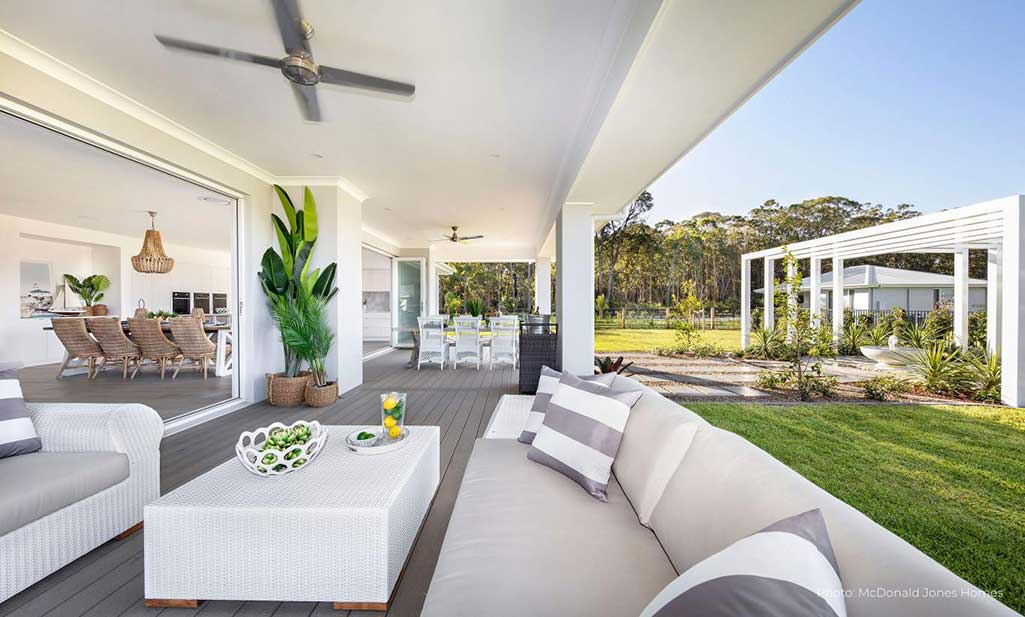 Ready to buy?