Gas Ducted Heating for your Melbourne Home
As the name suggests, Gas Ducted Heating is a gas heater that delivers warmth to your home via a series of ducts (some customers call these silver pipes).
The outdoor units pass cold air over a heat exchanger, which enters your rooms through the vents, or outlets, attached to these ducts. It's an energy efficient way of warming your entire home using one unit – keeping energy bills down.
Some houses have these vents in the ceiling, while others have them in the floor. And although this is up to you and your preference, you may find that your options are limited by the design and  layout of your home, which we explain further down.
Powered by natural gas, Gas Ducted Heating is an energy-efficient way of maintaining complete control of the temperature during those cooler months.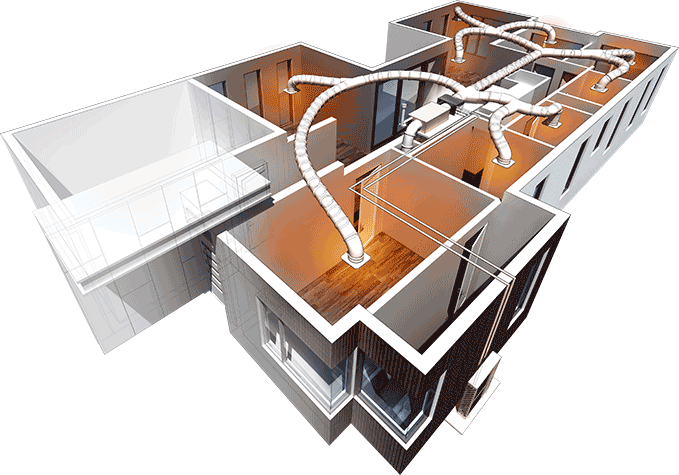 How Ducted Gas Heating system works
Ducted Gas Heating is essentially a central heating unit for your home, with the heat output in every room able to be managed from one handy controller.
Your clever Ducted Gas Heating unit will usually be positioned outside or in the roof space, then connected to a series of outlets throughout the home, via a system of strategically placed ducts in the floor or ceiling.
As soon as you fire the system up, your Gas Ducted Heater will start drawing air into the heater, where it is warmed. This delightful natural heat is then gently pushed down or up into the rooms, resulting in immediate comfort for you and the family.
Your controller will allow you to set a comfortable temperature and, if zoning control motors are connected, switch off heating in rooms that are not being used – a bonus for the hip pocket and your personal home energy ratings.
As an added bonus, higher-efficiency models will modulate the gas as your home heats up, ensuring only a bit of electricity is used to keep the space at your desired temperature setting. Once your home reaches your desired temperature, the heater unit switches off once all the hot air inside the unit has been used, reducing energy loss.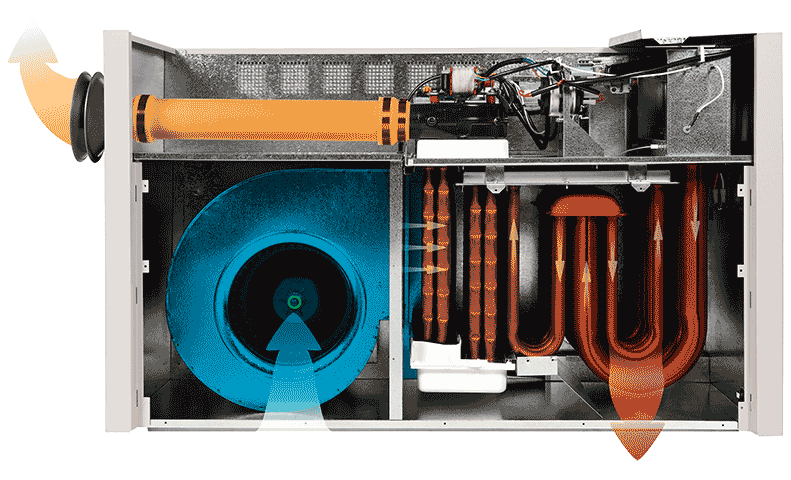 Requirements for Gas Ducted Heating
Natural Gas to your home.
Space for the network of ducts in the ceiling or under the floor (as per manufacture specifications).
Adequate ceiling space for servicing and replacing parts if the heater is installed in the ceiling.
A cavity to run ducts downstairs (if your home is two storeys)
Top 5 Advantages
Gas Ducted Heating gets your home toasty very quickly, much better than an unflued gas heater.
It's the cheapest form of whole-house heating climate control, with low running costs thanks to reduced energy consumption.
The option of zoning the Gas Ducted Heating system will save you a bundle of cash on annual running costs. This is because you can switch off the heater in specific rooms that are not being used. You'll be able to get rid of those tired gas space heaters. 
You can attach a refrigerated cooling system, called Add-On Cooling, to the higher-star rating heaters – resulting in an all-in-one Heating and Cooling solution for Australian homes. You can even add this at a later stage when you're ready. Simply ask us to make a provision for Add-On Cooling before we start designing your system.
There's a variety of model sizes with different efficiency ratings, depending on your purpose for the life of the gas room heating.
 Top 5 Disadvantages
High running costs if you buy a 3-star ducted heater, because they don't come with zoning capability.
Ducted Gas Heating is expensive if you run it on LPG.
You can't use the same duct and vents for Evaporative Cooling.
Natural Gas is required at your home.
Risk of Carbon Monoxide Emissions leaks if not serviced/inspected regularly
Ducted Gas Heating costs
Central heating options come in many shapes and sizes, meaning we can help you find the most efficient heating solution for your home.
When it comes to pricing, there is a wide range to choose from and the main deciding factor is the energy efficiency of the Ducted Gas Heater unit (represented by a star-rating). If you opt for a 3-star heater, it will be cheaper to buy, but long-term running costs caused by energy consumption will be high. If you choose a 6-star Ducted Gas heater, the initial purchase price will be more, but the long-term energy costs will be lower, making it the most suitable heater type.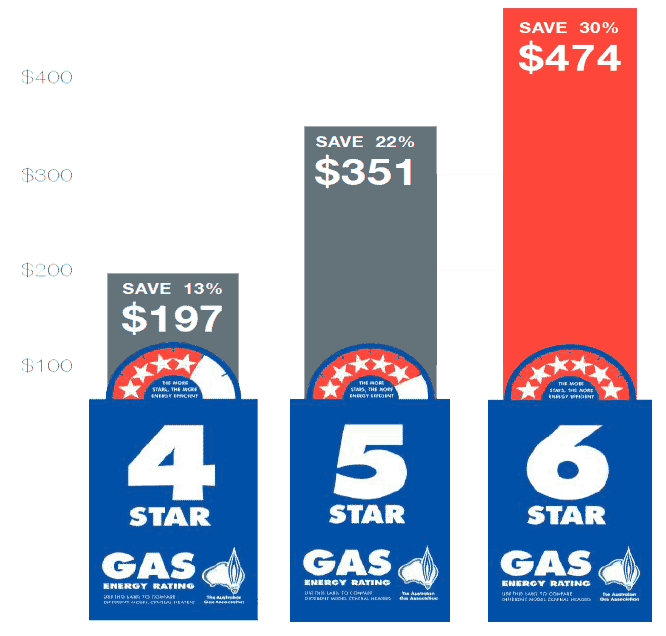 Asking yourself questions such as how long you plan on living at your property, or whether this is for an investment property, should help you decide.
Heater size is something that is determined by the overall size of your home. Without proper calculations, the heater can be undersized or oversized – meaning it won't run efficiently and will cost you money. If your home is a two-storey, 4–5-bedroom home, then you'll need a large, powerful heating capacity. If it's a smaller home, then a smaller sized heater will be sufficient in a cold climate.
Other components that contribute to the price are things like length of ducts, the return air size, length of gas pipe, and, of course, the degree of difficulty with ceiling height and access to different types of homes.
It sounds confusing, but you're in safe hands with Plum Heating & Cooling, because we're the experts in Australian Standards air conditioning & heating solutions and won't steer you wrong.
When determining the final price, we'll take your personal preferences into consideration, too! These include the number of vents you want, the style, your zoning requirements to suit your floor plan and lifestyle, the type of controller you choose, and whether you want Wi-Fi capabilities.
Taking all of this into account, you may want to budget anywhere between $3400 and $7000 for a brand-new Gas Ducted Heating system, installed. For those with an existing system, where all ducts and vents are intact, you may be able to get away with changing just the unit – at the affordable price of $2500-$4500 for your gas heating solution, including installation costs.
Gas Ducted Heating are cheaper than Electric Heaters
So many factors come into play when determining which type of system will be cheaper to run in your home.
Electric heaters – more commonly known as Ducted Reverse Cycle – will heat and cool your air. A Gas Ducted Heater does just this, it heats your air. But the beauty is, you can enjoy the best of both worlds by purchasing an Add-On Cooler – which ends up costing the same as a Ducted Reverse Cycle (electric) system.
Running costs depends on the gas and electricity tariff in your state. In Victoria right now, the gas price  is cheaper than electricity, so running Gas Ducted will be cheaper. However, if you have solar panels and a good battery storage, you'll be paying less from your pocket to power the electric system.
The huge benefit of running Gas Ducted Heating is that it warms your entire home in just 5-10 minutes, with minimal heat loss. This is better than Ducted Reverse Cycle, which only heats different zones at once, meaning only half to three-quarters of your home benefit at once.
The majority of our customers go with Gas Ducted Heating and Evaporative Cooling. If they like the chill feel of a refrigerated system, they go with Gas Ducted Heating with Add-On Cooling.
If they have solar panels and aren't too worried about heating their entire home at once, then they tend to go with Ducted Reverse Cycle Air Conditioning.
Brivis vs Braemar vs Bonaire
We're often questioned about different brands, such as which one is best and why.
Over the years, we've installed most of the brands that are on the market today. And we've found the Top 3 brands to be Brivis, Braemar, and Bonaire. There is no real difference in their structure and performance, they are very similar. The only real difference is the controller on the wall.
The factors to consider when looking at the brand comparison is the 'quality and the responsiveness' of their support in case you ever need them in the future.
We've found Brivis to be the most supportive when it comes to meeting the needs and demands of our customers, so now we've committed to only sell Brivis/Rinnai heaters (Rinnai now owns Brivis). We do make the exception of installing Braemar or Bonaire if our customers are determined, but we can't guarantee the support will be there if something goes wrong.
To further accommodate our valued customers' needs, Plum Trade Services have aligned ourselves with Brivis – ensuring we can do the warranty repairs on their behalf. We did this to ensure we can offer you a real one-stop-shop, eliminating the frustration of having to deal with multiple companies in the rare event that your heater fails.
After installation, we keep all the important information about your heater on file – such as model number, serial number, the type of controller and installation date. This is in case we need this information when dealing with Brivis and is one less thing for you to worry about.
Ducted Heating with Add-On Cooling
In addition to ducted heating, most Brivis Gas Ducted Heating systems are compatible with the Brivis Ice™ Add-On Cooler, a coil that attaches to the heater to give it full cool refrigerated air conditioning capabilities.
Similar to a Reverse cycle split system, the Add-On Cooler has an indoor coil and outdoor condenser, producing low temperatures just like a ducted reverse cycle system would. It makes use of the same duct, vents and Controller as the heater. This add on will provide your entire house with both heating and cooling.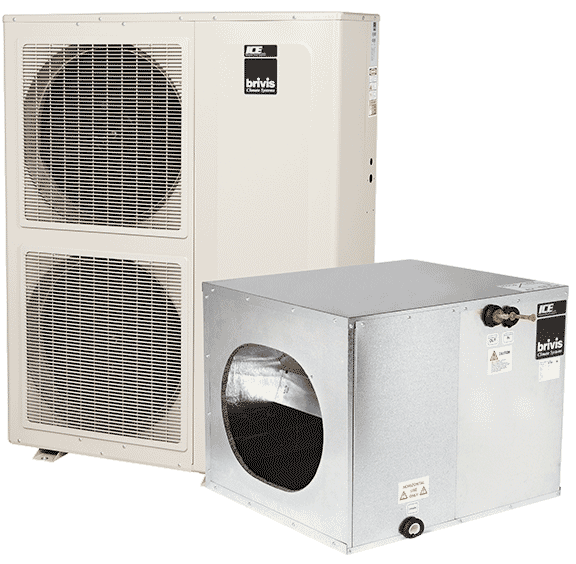 Heating and Cooling from the same vents
To have heating and cooling coming out of the same vents, you would need to install a Gas-Ducted Heating system with Add-On Cooling, or a Ducted Reverse-Cycle Refrigeration system.
If you install a Gas-Ducted Heating system and a separate Evaporative Cooling system, you will need separate ducting and vents to accommodate two completely different systems.
Ducted Heating Parts Vs Replacement
Another positive that comes from buying a Gas Ducted Heater  is that it breaks down into five easily replaceable parts. So, if anything goes wrong down the track, you can easily switch out one of these parts from Plum Heating and Cooling, rather than the entire system – again saving you money.
Your Ducted Heater consists of:
The Heater
The Ducts
The Vents
The Return Air Grill
The Controller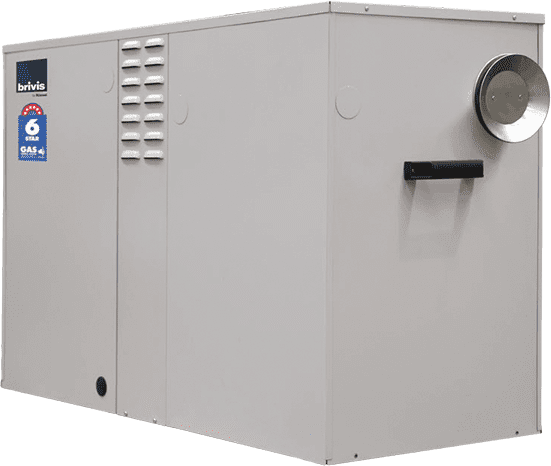 So, in the unlikely situation that your Ducted gas heater breaks down, it can easily be switched out for a new one. Sometimes, replacing with new (new warranty and good availability of parts) is a better choice than repairing – especially if it occurs years down the track when parts are obsolete, or production has been discontinued.
Sometimes, our customers replace their system's vents and/or the return air grille, which can become discoloured over time. Those who've been renovating or have given the ceiling a fresh coat of white paint are pleased to discover these parts can easily be updated.
Daily handling can also mean your Controller will eventually suffer a bit of wear and tear. Perhaps it has suffered a broken or missing flap or is just discoloured from over-handling and looks like an eyesore on your freshly painted wall. No matter, we can swap that out for you with a shiny, brand-new one from our range of Controllers.
Once your Gas Ducted Heater hits the 10-year mark, a full system changeover may just be what your home needs, providing you with absolute peace of mind free of concern of maintenance issues.
We can suggest the most suitable heater type for you – just tell us what you want to do.
Carbon Monoxide Safety
Carbon Monoxide is always a marginal risk when running gas appliances in your home. But with regular annual inspections and servicing by our expert Plum Trade Services team, you can rest easy knowing your family is safe
Carbon Monoxide – a colourless, odourless, tasteless gas produced by burning gasoline, wood, propane, charcoal, or other fuels – must be extracted out of the home via a flue pipe. We ensure that this is tightly sealed, ensuring there are absolutely no leaks that can result in gas build-up in the ceiling
Our expert crew are extremely cautious when installing heaters because it's our job to make sure this is done to perfection. And when we come out to do the annual servicing of your heater, we'll check the Carbon Monoxide levels as a priority, making sure everything is A-OK today and into the future.
Tips when choosing a company
When looking around, keep in mind that it's the quality and value that you're paying for, not the heater itself. Heaters are priced the same anywhere you shop. It's the other 'under the hood' stuff that others may keep hidden from you because it's of lower quality, which helps bring their prices down.
Take everything into account like the quality of materials, the way the layout has been designed, the way it will be installed to get even airflow throughout your home, the level of service to expect, the ongoing support, the warranty of both the system and the workmanship, and how long a brand or company has been in existence for.
Most importantly, always read the Google reviews! Look at how responsive a company is to their customers, which will tell you quite a bit about the level of support you'll receive in the future. The number of 5-star reviews is a great indicator of where customer satisfaction lies
Ready to buy?