We all love to joke about the Melbourne weather and how we have to dress for four seasons in one day, but when it comes to the comfort of your family, the same philosophy should apply to your home heating and cooling.
Here at Plum Trade Services, we understand that while Melbourne's winters are bitter, the summer months can be fairly savage too! It means that finding the best heating and cooling for your family home is crucial.
And with Gas Ducted Heating now the most popular choice for Melbourne homeowners in the winter months, it should come as a relief to many to learn you have highly effective Add-On Cooling solutions available to you, which attach to your existing system and use the same vents – providing a cooling solution to those hot, muggy days.
For the best heating and cooling in Melbourne, you can consider buying a complete Gas Ducted Heating system with Add-On Cooling or add one down the track if provision has been made for this during installation.
And don't worry, home heating with Add-On Cooling is far from an afterthought … it's a proven, reliable, efficient and cost-effective climate control solution no matter the time of year – with super-fast start-up at the touch of a button. It can be exactly what your family needs.
However, they are not perfect for every home. A few key factors come into play when considering if this ducted heating and cooling system is the perfect choice for your home.
Having devoted many years installing Add-On Cooling in Melbourne on behalf of our satisfied customers, we'd like to share with you some of the pros and cons of installing Gas Ducted Heating with Add-On Cooling in your home. And please be assured, if ducted heating and cooling is not for you, we can steer you toward a more suitable, but equally effective, Ducted Reverse-Cycle system.
What is Gas Ducted Heating with Add-On Cooling?
Put simply, Gas Ducted Heating with Add-On Cooling is probably best thought of as an entire heating system with an air cooling attachment. This does not lessen the effectiveness or efficiency of the cooling during operation, it simply means that the heater can operate independently, but the cooler can't – it needs the heater to operate, which is why it's called an Add-On.
Let's break it down.
The Gas Ducted Heating system that hosts your Add-On Cooling is a central gas heater delivering warmth to your home via a series of ducts (known by some customers as silver pipes). The heat enters your rooms through the vents, or outlets, which are attached to these ducts along the ceiling or floor.
The Add-On Cooler is a refrigerated cooling unit that attaches to the Gas Ducted Heater. It delivers deliciously cool air through the same ducts and vents used by the central heating. This cooler has two components to it: an indoor coil and an outdoor condenser.
By combining the heater and cooler, you get an all-in-one home heating and cooling system, known as Heating with Add-On Cooling, or Dual-Comfort System.
This type of set-up is great for larger homes, where the air from a wall air conditioner may not be able to effectively reach all desired rooms.
How does Add-on Cooling work?
As suggested by the name, Add-On Cooling becomes an extension of your Gas Ducted Heating system, whereby delightfully cool air is circulated throughout your home using the existing duct and vents. When the system is in Heating mode, the cooler becomes idle and allows the air from the heater to pass through. When the system is switched to Cooling mode, the fan on the heater pushes the air through the cooling coil which produces the cool air.
The indoor component of the add-on cooler (coil) is connected to the outdoor unit via refrigeration copper tubing. The outdoor compressor generates the cool refrigerant flow, which passes through the indoor coil, then the fan from the heater blows through this coil and generates nice, crisp refrigerated air.
Here is an illustration of a Gas Ducted Heating with Add-On Cooling set-up.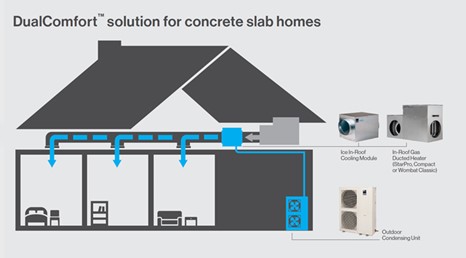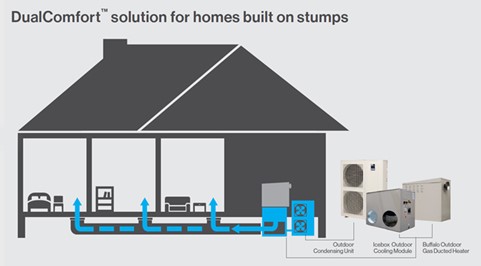 Requirements for an Add-On Cooling System
To attach Add-On Cooling to your Heater, you must have the following.
Adequate space in the ceiling for Heater and Add-On Cooling indoor unit and ducts
A dedicated area outside with clearance for the outdoor unit
Upsized filtered return air vent
Larger outlets 200mm (8")
Insulation on ducting must be R1.5 rated   
Insulation on the BTOS (branch take offs on the duct system)
Must have 4, 5 or 6 Star Heater to be compatible
Here are a few things to think about when buying Heating with Add-On Cooling.
Advantages of Gas Ducted Heating with Add On Cooling
Heating and cooling of your entire home through one system, using the same vents
The system heats by using gas and cools using electricity
Cooling becomes cost-effective if you have solar panels
Zone different areas of your home
Cooling performs flawlessly on humid days
Disadvantages of Gas Ducted Heating with Add On Cooling
Difficult to add cooling to already existing heating systems that aren't Add-On ready
The outdoor unit takes up a lot of space
Requires Natural Gas at the property
Add-On Cooling is only compatible with specific model heaters
Preparing Your Home for Add On Cooling System Installation
The key to running Gas Ducted Heating with refrigerated cooling is in the planning. It's important to plan for Add-On Cooling from the start, since the capacity of key components must be slightly larger for cooling than in heating. What this means, is that the ducting, vents, and system need careful consideration from the get-go.
However, this doesn't mean you have to install Add-On Cooling at the same time as your Gas Ducted Heating system. This can be done later, when your budget allows for it.
For the best heating and cooling in Melbourne – where winter days start consistently below 6°C or 7°C – a combined heating and cooling system such as Gas Ducted Heating with Add-On Cooling is often the preferred choice, because it ensures your family's needs are met all year round.
Here in Melbourne, where heating is equally as important, if not more so, than air conditioning, you want the flexibility of a dual system. Ducted Gas Heating with Add-On Cooling answers both your cooling and heating needs efficiently, reliably, and quickly. Meanwhile, the system's handy, all-in-one Controller will deliver your toasty Gas Ducted Heating in the winter months, while ensuring your family is kept delightfully cool thanks to refrigerated cooling in the warmer months.
Plum Trade Services' convenient Ducted Gas Heating with Add-On Cooling systems deliver the best heating and cooling in Melbourne, first time, every time!
Flexible installation possibilities for Add On Cooling
Who doesn't love having a bit of wiggle room, especially when it comes to financial considerations?
When it comes to purchasing your Gas Ducted Heating with Add-On Cooling, you have plenty of wiggle room. You can have your central heating and cooling unit installed together at the same time, or just have the heating fitted, with the cooling system added at a later date.
Simply let us know that you want your heating system to be Add-On ready, so we can ensure your ducting, vents and return air are upsized, and that your heater is compatible with your future cooling unit.
Ceiling vs. Floor Installation for Add On Cooling System
There is one key deciding factor when it comes to determining placement of your home heating and cooling outlets – and it all comes down to adequate space for the ducts.
Heating with Add-On Cooling requires a lot of ducts, meaning a lot of space is needed. The ducting needs room to be rolled out freely, so it has room to breathe. And nowhere is this more important than around corners. We need a minimum clearance of 1 metre under your home for Add-On to be installed under the floor.
As a result, your ceiling is a preferred option, purely because there is so much more room to move.
Also, any stumps beneath your house and even the placement of furniture will restrict opportunities for vent placement in the floor.
How to Choose the Best Add On Cooling System Brand for Your Home
We get it, selecting the right brand that delivers the best home heating and cooling in Melbourne can be tough, but you are in the best hands with Plum Trade Services.
Because we put our customers first, we aren't shy about sharing what we've learned over the years after installing a great number of Add-on Cooling brands on the market today.
We've learned that the top two brands suited for Melbourne homes are Brivis or Braemar. There is no real difference in their structure and performance, they are very similar, offering the same Gas Ducted Heating and Refrigerated Cooling. But it pays to give some consideration to the quality and the responsiveness of their support, in case you ever need them in the future.
When it comes to satisfying the needs of our customers, Brivis has consistently delivered – which is why we now only sell Brivis Add-On Coolers. And with Brivis now a part of Rinnai, rest assured that the quality and reliability is there.
To further accommodate our valued customers' needs, Plum Trade Services has aligned itself with Brivis – ensuring we can do the warranty repairs on their behalf. It's part of our drive to offer a one-stop heating and cooling service to you, our valued customer – and makes sure you never get hit with the drama of dealing with multiple companies in the rare case of a breakdown.
Once your Add-On Cooler is installed, we'll keep all the critical information such as the model and serial numbers, the Controller type and installation date on file in case it is ever needed. That's one extra way of delivering peace of mind.
For those customers who have their heart set on a different brand of Gas Ducted Heating with Add-On Cooler, we'll make the exception and install it for you. But please be warned, we won't be able to guarantee the level of support that brand will provide you if something goes wrong.
Add-on Cooling Pricing
When it comes to Heating with Add-On Cooling, you have a choice of the 4, 5 or 6-star rated heaters. The size of the Add-On Cooler and Heater is determined by the size of your home. Without careful and considered calculations by our professional team, you could find yourself with a home heating and cooling system that is over or undersized, which will ramp up running costs and make it less efficient.
To give you a handy idea of requirements, a large, two-story house with four or five bedrooms will need a powerful, large system. Meanwhile, a small three-bedroom home only needs a small system.
A lot of customers opt for the highest star-rating heater, because they are so much more efficient and the higher purchase price is recovered in the first two years of cheaper running costs. With such a huge investment (prices start at the $12,000 mark) it's crucial that you get it right from the start! This means investing in a good heater, the right cooler, top-quality ducts and vents, and a solid layout design. The quality of the installation and workmanship must be top notch and perfect from the start, so when shopping around, pay for quality and reputation (not cheap and dodgy tradesmen), otherwise you'll be left out in the cold.
When it comes to the final install costs, components and requirements come into play. The length of ducting, the return-air size, length of gas pipe, and the degree of difficulty during install are factored in.
We'll take into account your personal preferences for the number of vents, zoning requirements to suit your lifestyle, the type of vents and Controller, and whether you want Wi-Fi capabilities.
So you may need to budget $12,000-$18,000 for a brand-new Gas Ducted Heating and Add-On Cooling system, installed. If you have an existing ducted heating system with compatible vents and ducts, your Add-On Cooler install will cost between $6500 and $10,000.
Your running costs will be determined by a number of factors: the size of the areas being warmed and cooled; the number of zones; and whether you have energy from solar panels feeding the Add-On Cooler.
Size and model
The size of your home will tell us which size and model of Ducted Heater with Add-On Cooler is required to keep your family comfortable all year round.
The size of your house reveals to us how many kW of energy will be needed to efficiently keep your home at the perfect temperature, no matter the weather outside. Our expert consultants also factor in the lifestyle of your family, which rooms are used the most, and whether you plan to expand in the future.
These are all questions you will be asked during the friendly consultation process to ensure a seamless result with a system that is perfect for your family home.
Star Rating (for the Heater)
It's common to feel bamboozled by all the varying models, shapes and unit sizes when selecting the best home heating and cooling solution.  But here's a handy tip: focus on the star rating.
The star rating tells you how efficient your ducted heater will be – with the most efficient models using less energy, meaning lower bills!
In the language of star ratings, three stars are given to less-efficient models, with six stars being awarded to the best, or most economical, models for your home. So, while a 3-star, low-efficiency heater will cost less to buy, it will cost more to run. And a 6-star heater will save a lot of money on energy bills throughout its lifecycle, but cost a little more to buy.
Your friendly Plum Trade Services consultant will work with you to find the best option, by learning whether the building in question is an investment property or your family home and, if so, how long you plan to live there. We'll then explain the pros and cons of each system, the price of each star rating and how much you will save when compared to the previous model.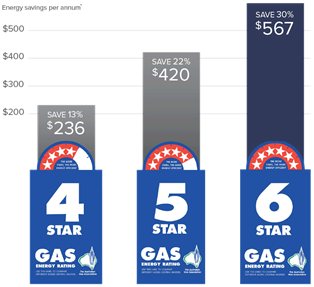 Zoning your system
Gas-Ducted Heating with Add-On Cooling systems can be zoned into sections to ensure efficiency of use. What this means, is that you can turn off your heating or cooling in areas that aren't being used, which is wonderful news for the hip pocket and the environment.
Our professional, expert consultants will run you through common set-ups, working together toward the perfect onep for your zoned system.
An example of a typical zone set-up:
Common Zone – Living and Dining (As the most commonly used area of the house, this will always be on in conjunction with any of the following zones)
Zone 1 – Bedroom 1 + Ensuite
Zone 2 – Bedroom 2 + Bedroom 3 + Bathroom
Zone 3 – Bedroom 4 + Retreat
Zone 4 – Home Theatre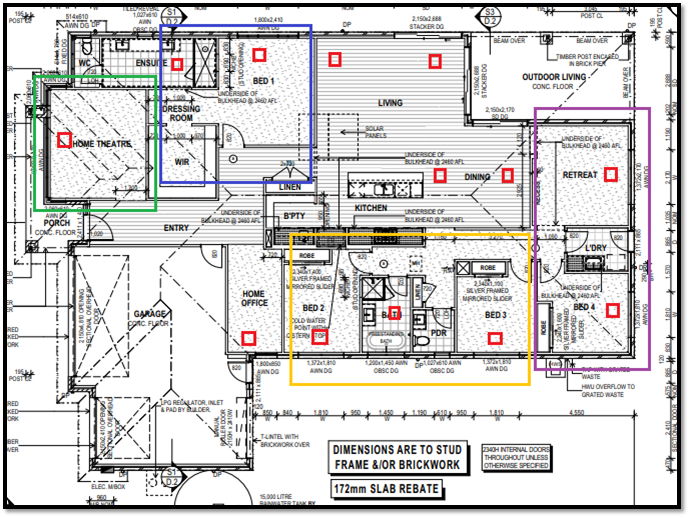 Heating and Cooling – Using the same vents
Heating with Add-On Cooling uses the same ducts, so you will get heating and cooling from the same vents.
Compare this to a Heating system and a separate Evaporative Cooling system, you will need separate ducting and vents to accommodate two completely different systems.
Can I add Add-On Cooling to my existing heater?
You would think the answer would be a definitive, simple yes, but in actual fact, it's a bit more complex. Unless your system is set up for Add-On Cooling from the start, there are a few provisions that must be met to accommodate an Add-On Cooling system to the Gas Ducted Heating system.
Your heater needs to be compatible. Check the model number and if it's a Brivis StarPro heater, then you're in luck.
The ductwork and vents must be one size larger than the standard size and the duct rating needs to be R1.5. This will need to be upgraded if you currently have the standard size.
The system will need to be zoned. This is because the Add-On cooling unit is designed to cool sections at a time and not as a whole house all-at-once solution. This is the same as a Ducted Reverse Cycle Air Conditioning systems.
The return air must be sized appropriately and be filtered. This will be a larger size than your standard heater return-air grille.
Extra electrical provision will need to be upgraded. This includes an independent circuit and isolator at the outdoor unit location.
If your home is a double-storey house, the ducts going from upstairs to downstairs need to be accessible and replaceable.
If you are currently building a double-storey house, it pays to ask the builder to upsize all ductwork so it's Add-On ready. The heater model should also be upgraded to a compatible unit. A Brivis StarPro 5-star is the best option because it has the highest airflow range, although any 4-star, 5-star, or 6-star Brivis StarPro heater will be compatible. The 3-star heaters commonly used by most builders will not be compatible.
What to look for when shopping around for Add On Cooling
As always, you have to keep your head about you when shopping around for the best heating and cooling solutions. And here's a few handy tips to see you right.
Please keep in mind, you aren't just on the hunt for the best heating and cooling in Melbourne, but after-care as well. You'll find that Heaters and Add-On Coolers are around the same price anywhere you shop. If prices are low, check that the 'under the hood' features are not of an inferior quality to keep their prices down.
Take the time to study the quality of materials, the layout and installation plan, what level of after-service you can expect, the warranties on the system itself and workmanship, and how long the brand or company has been around.
Then, jump onto Google and look for reviews of the product and company – especially the company! If the company is responsive to its customers online, it's a safe bet they will also take care of their customers face-to-face long into the future. And if the company or product boasts a stack of five-star reviews, you know you're in safe hands indeed!
A lower price will usually mean all-round inferior quality, such as: no future support, work carried out by contractors, poor responsiveness, and more. So buyer beware, because if you buy off a less reputable company, you could end up pulling your hair out in frustration after being repeatedly told "sorry, but it's not our fault".
Why choose us for your Add On Cooling needs?
We've built a brand based on our Plum name and motto: that we will always do a plum job!
It's a simple yet effective ethos that sets us apart from the competition. As a family owned and operated company driven by strong values, we recognise that customers of other companies can have a frustrating experience before, during and after installations, or when requiring service/repairs. We think that's absolutely wrong – and it's why we'll always put your needs first, treating you like family.
So, for a seamless, respectful, and expert-led journey into the world of home heating and cooling in Melbourne, please come and join the Plum Trade Services family today. You won't regret it!
It's why we do everything in our power to simplify the process for you – ensuring a stress-free, seamless process. Our customers know us and have trusted us over the years to deliver, and we've built a brand around it.
That brand is Plum, meaning 'we will always do a plum job'! And if we're not satisfied with our work, then we'll keep going until we are.