Did you know that at Plum we use a unique, cutting edge Eco-Clean process to service your split system air conditioner?
Exclusive to our business only, the Eco-Clean process will unclog and clear the mould, bacteria and fungi from your split system's filters, efficiently and safely.
When we Eco Clean your split system air conditioner, the filters, fan coil, barrel fan and the back of the indoor unit are sprayed clean and sanitised with anti-bacterial chemicals, before being blow dried and tested by our technician so it's ready for immediate use.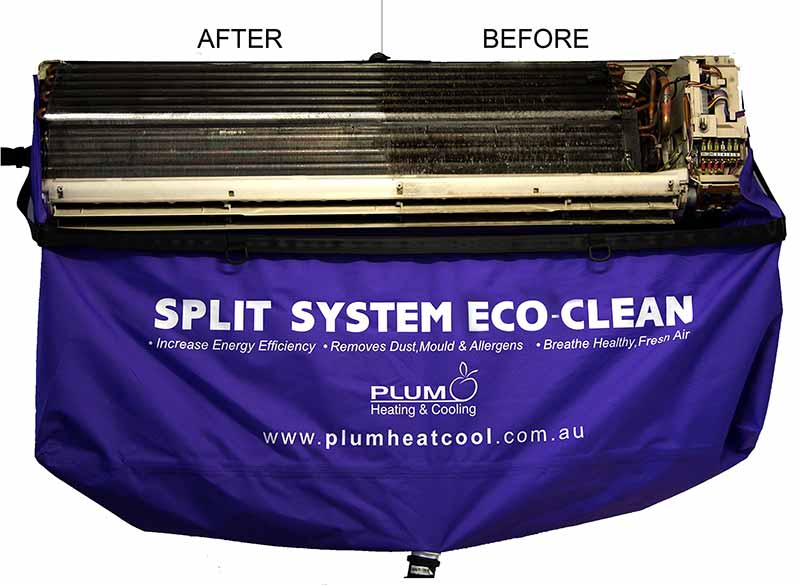 Using a water waste catchment bag is used to avoid any leaks inside your home or office, and the plastic covers of your split system unit are taken outside to be sprayed and cleaned.
The outdoor unit is also exterior cleaned and checked, ensuring it's working to it's best efficiency.
How do you know your split system air conditioner needs an Eco-Clean?
If your energy bills have been higher than usual, then a common culprit is dirty filters on your split system meaning the unit has to work harder to cool or heat the surrounding air.
In addition, you might notice a stale smell from your unit when you switch it on, which is a clear sign that mould has accumulated and needs to be removed; this is especially important if you have asthma or allergies as the airborne mould and bacteria can worsen symptoms.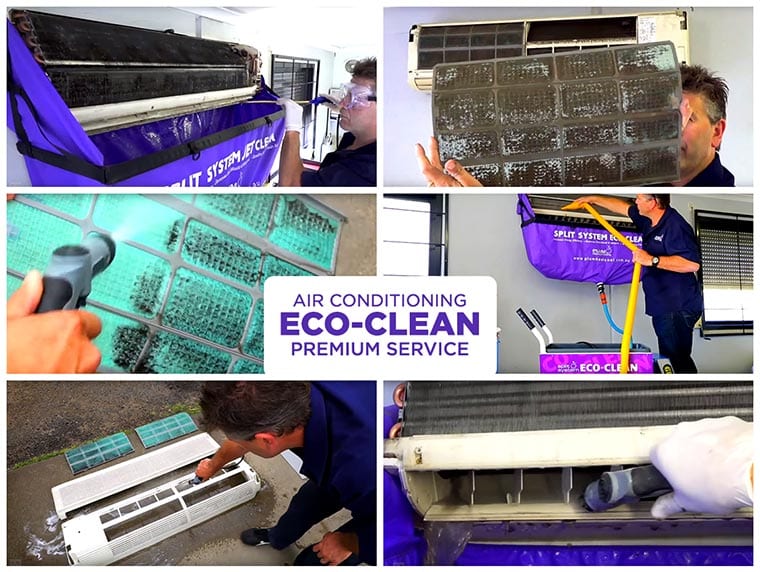 We recommend a split system air conditioner is serviced and cleaned every 12 months, and the Eco Clean process makes it easy to achieve that.
If you have any questions about the Eco Clean process we use on split systems, or are in need of split system repairs in Melbourne, the team here at Plum Heating & Cooling is available 6 days a week, with the knowledge and expertise to provide the answers or to make a booking for you.
Give us a call on 03-8360 9622 or contact us via our website. We look forward to hearing from you!