Comparing air conditioners before you make your final decision is essential. By taking the time to compare the different types and brands on offer you will find information that will allow you to buy a quality air conditioner or evaporative cooling system within your budget that best suits your home.
Throughout our years of helping customers find the right air conditioner suited for their home we put together a few tips on how to help get you started.
The type of air conditioner
Do your research and figure out exactly what you need before getting a quote. There's no point cooling your whole home if you only spend time in the living room! Here's some of the more common cooling systems and their ideal use:
Evaporative Cooling Systems – Provide a great, whole home cooling solution and can run for less than a dollar a day.
Split System Air Conditioners – A good option if you only need to cool one or two rooms in your home, plus they can be used for heating in the winter.
Ducted Split Systems – A whole home solution which can be cheaper than buying multiple Split System wall units. Does both heating and cooling.
The range of features
There are a few basic features that you should expect from your air conditioning unit, such as an adjustable thermostat, multiple fan speed options and energy efficiency ratings so your bills don't go through the roof.
You also should be looking for a reliable brand with self-cleaning features (on the bigger evaporative cooling systems), so that when it comes time for your annual check-up, it is left at that and doesn't become an annual overhaul.
If someone in your home has allergies, a good feature to look out for is a top quality filter that helps remove smaller dust particles from the air.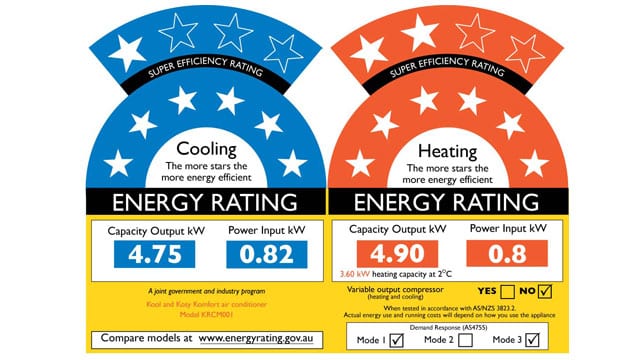 The Units Energy Star Rating
The energy star rating is a measure of how efficient your air conditioning unit is – more stars means the less it will cost you to run throughout the year. It can often be a pricier option up front, but it does end up extremely beneficial for you financially long-term as well as a more environmentally friendly option.
The cooling capacity needed
It is essential to choose a cooling system with the capacity suitable to your home, if you choose a unit that is too small it may not cool your room efficiently on a hot day. However, choosing an air conditioning unit too large will unnecessarily just cost you more to operate.
The size of your rooms isn't the only factor to consider, there is also the number and size of the windows, the available shade, the direction the room faces, how many people use the room and what other appliances are being used in the room. If you're not sure how determine what you need, as a technician when they give you a quote and they should be able to explain everything.
If you need to purchase a new cooling system for the summer months ahead but aren't quite sure which type best suits your home, don't put it off any longer. Our technicians are happy to provide you with a free quote and all the information you need to make an informed decision when it comes to heating or cooling your home.
To get a free quote simply give us a call on 03 8360 9622 or contact us