Great Prices on Evaporative Cooling Installation: Install Now to Beat the Summer Sizzle
An evaporative cooler sits on the roof of your house. It works by saturating filter pads in water and then blowing air from outside the house through these wet pads. Blowing the air through the pads cools the air while filtering out pollen, dust and other pollutants. This cold, clean air is then blown through strategically placed ducts to fill your whole home with a light, refreshing breeze.
Beware of evaporative cooling systems built with cheap plastic. Over time, this plastic can become brittle. The unit will then be liable to break, leaving you to sweat it out all summer.
Because the evaporative method cools air by evaporating moisture into warm air to cool it down, it works best in dry weather. As a general rule, Melbourne's humidity levels on a typical summer's day are between 40-50%. The Melbourne climate is suited for evaporative cooling.
Conventional air conditioners work by recirculating air from inside the house and so work best with every door and window closed. Evaporative coolers, however, work by replacing the air inside your home with cooled air from the outside – doing this well requires some doors and windows to be open so that cool air can be kept blowing through the house. Ideally you should be replacing all the air in the home every 2 minutes. We can advise you on how many doors and windows you will need open to do this.
The combined water and electricity costs of running a typical evaporative cooler in Melbourne is between 10 and 25 cents an hour. This makes it a very affordable way to cool your home. Many customers will be able to beat the summer heat for under a dollar a day. With electricity prices having more than doubled in Melbourne since 2009, it's more important than ever to keep an eye on running costs when arranging an evaporative cooling installation in Melbourne.
Because filters keep dust, pollen and other pollutants out of the home, evaporative coolers are the most beneficial type of cooling system for asthma sufferers.
The low energy requirements and lack of refrigerant chemicals in an evaporative cooling system mean that it is also the environmentally friendly choice to cool your home.
Evaporative coolers are very simple systems with not a lot in the way of moving parts. There is not a lot there that can go wrong. Really, the only active components are a fan and a pump. Evaporative coolers can also be run in "fan only" mode when you want to purge all the stale air from your home without cooling it.
What Kind of Price Can You Expect To Pay For an Evaporative Cooler in Melbourne?
An evaporative cooling installation in Melbourne typically runs $3,000 – $5,000, depending on the size of your home.
This includes a warranty of between 3 and 10 years, depending on the evaporative cooling unit you install. The warranty usually covers everything except the filter pad. These usually need replacing every 7-12 years.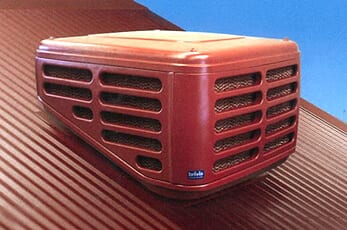 All evaporative cooling installations by Plum Heating and Cooling will be issued a compliance certificate. This confirms that the evaporative cooler installation has been completed by a Plumbing Industry Commission Registered Installer.
We recommend that you get your evaporative cooling service once every 18 – 24 months. This will ensure that the evaporative cooler is operating at its best when summer rolls around and you're relying on it to beat the searing heat.